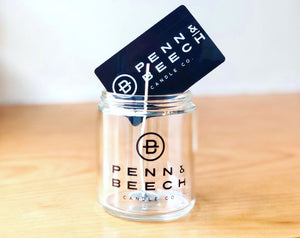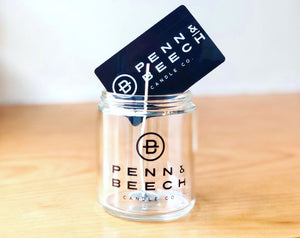 Give the perfect gift of custom fragrance. This is an e-gift card that will be emailed upon purchase. Can be used online or in store.
Local to one of our shops? Stop in and select and empty candle vessel(s), and we'll wrap it up with a gift card loaded for the exact amount of the full candle-pouring experience. Your recipient will love having a physical gift to open, and you'll love knowing you gifted them a candle AND an experience!
I never received the gift card number. The PDF only showed the title of the company and not the electronic number. I haven't been able to order anything yet.
Hi Katina! We're sorry to hear you've had issues accessing your gift card. We are reaching out to you via private email now so please keep an eye out - we'll get you taken care of! Please know you can always reach us at hello@pennandbeech.com and we'll help you out ASAP. Thank you for choosing us for your gift!
Such a great gift idea
The gift card was simple to purchase Anne easy to redeem too!
Our recipient found it in junk- sorry!
I just submitted a 1 star review and said my recipient never received it. But she just told me it was in her junk folder. So sorry!